Return to Headlines
MetroHealth-based school graduates first seniors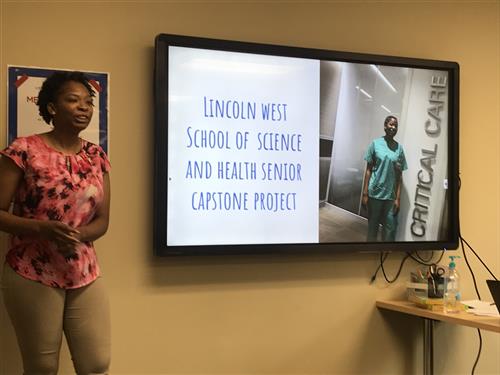 Endia Reynolds presents her senior capstone project at MetroHealth's main campus, home to the Lincoln-West School of Science and Health. Endia, who is about to become one of the school's first graduates, plans to pursue a bachelor of science degree in nursing at Cleveland State and hopes to eventually work as a nurse with MetroHealth's Life Flight service.
CMSD NEWS BUREAU
6/12/2019
The Lincoln-West School of Science and Health -- the only high school in the country based in a hospital -- will hold graduation for its first senior class on June 21.
Now the hospital system and CMSD, with feedback from those new alumni, will focus on making a unique educational experience even better.
Alan Nevel, senior vice president, chief diversity and human resources officer for MetroHealth, works closely with the school, which opened in 2016. His agenda for the future includes upgrading group mentoring to one-on-one interaction and expanding exposure to careers in the hospital and beyond.
"We got our first graduating class through," Nevel said. "There's a sense of accomplishment, but we're not done yet. There's a lot of things we can do to refine and improve the program."
The wheels are turning on the District side, too.
For example, College and Career Success Manager Monica Lawson said the school would like to help students interested in nursing careers gain certification as state tested nursing assistants before senior year. The certification would better prepare them for some of the unpaid 200-hour internships that all seniors serve at MetroHealth, as well as jobs after high school.
The school-inside-a-hospital concept developed from conversations between District CEO Eric Gordon and MetroHealth President and CEO Akram Boutros. Boutros, intrigued by the new high school models CMSD was launching, thought where better to teach STEM or health than in an environment that also would give them a close-up view of careers, both medical and non-medical.
The School of Science and Health operates year round, alternating 10 weeks of classes with three-week breaks.
Freshmen from the Lincoln-West Campus on West 30th Street travel to the MetroHealth System's main campus, less than a mile away, one day a month for workshops. Tenth- and 11th-graders are at the hospital two days a week for classes; seniors go three days a week for classes and one day for the internships.
The first graduating class is small, just 20 seniors. The District, which typically starts new models with ninth-graders, extended the opportunity to 10th-graders who had participated in a MetroHealth mentoring program. By comparison, the incoming freshman class numbers more than 100, the largest yet.
All of the graduates have been accepted to colleges. Eighteen are headed to colleges and universities, including Ashland, Hiram, Cleveland State, Bowling Green and Cuyahoga Community. Two are taking a gap year.
The seniors made capstone presentations at the hospital this week, speaking on topics such as student voice in their education and suicide prevention in the LGBT community.
They also reflected on their "MetroHealth experience" and recommended ways to better engage students. For example, one senior recommended bringing the ninth-graders to the hospital campus more than just once a month.
Valedictorian Amar Baraily, who moved to the United States from Nepal in his early teens, wants to study computer science. Though the field is not exclusive to medicine, high school added to his interest in technology.
Amar has worked with computers, handling file uploads and other tasks, during a senior internship with Turner Construction, the construction manager on MetroHealth's campus transformation project. He will continue working for Turner after graduation.
"I'm good in math and science," he said. "I'm a quick learner."
Endia Reynolds plans to pursue a bachelor of science degree in nursing at Cleveland State and hopes to eventually work as a nurse with MetroHealth's helicopter transfer unit, Life Flight.
Her flickering interest in nursing took off after she shadowed Life Flight dispatchers. She was captivated by the thrill of Life Flight service and the close relationship of the unit's members.
Amar, Endia and others said spending time at MetroHealth and mixing with the adults there developed their communication and networking skills. They also learned how to behave in a professional setting.
"We're seniors, we goof around," Endia said. "This helped us realize when and where you can goof around."
MetroHealth has a number of reasons for partnering with CMSD on the school -- some rooted in business interests, others in a desire to "do the right thing," Nevel said.
The hospital system belongs to the Healthcare Anchor Network, which stresses local hiring, procurement and investment. The school places students, many of whom live in the surrounding area, on a track to employment with MetroHealth. Education and jobs are good for families and good for the local economy.
"We want to create advantages for the students in the market," Nevel said. "I'm selfish. I want them all to work for MetroHealth."
Have a story idea for the CMSD News Bureau? Email it to newstips@clevelandmetroschools.org.