CMSD MATHEMATICS CURRICULUM DEPARTMENT
---

---

The Cleveland Metropolitan School District Mathematics Program will provide a rigorous curriculum fostering the development of problem solvers and critical thinkers.

Teachers will be accountable for striving for excellence in their students by motivating them to meet and surpass the standards. Teachers will also be held accountable for themselves by engaging in on-going professional development.
Curriculum:

Please note that each school chooses its own individual curriculum. Thus, parents should contact his or her scholar's school to find out which curriculum their scholar uses.

Grades K-8

Grades 9-12

Eureka

Eureka Math^2

Into Math

enVision Math

Ready Math

Into Algebra

Into Geometry

Into Algebra 2

Stats in Your World

Precalculus

Springboard: Algebra

Springboard: Geometry

Springboard: Algebra 2

Springboard: Precalculus

Reveal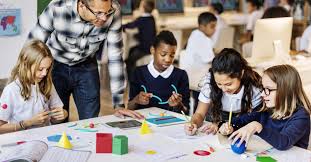 Helpful Online Resources: