Return to Headlines
Grab n' Go Meals Offered to Students during Remote Learning (VIDEO)
Written by CMSD NEWS BUREAU
The CMSD Nutrition staff at John Marshall High School is hard at work filing bags full of food for students while they are learning from home.
"Hunger doesn't stop just because students aren't in a brick-and-mortar building," said Chris Burkhardt, executive director of school nutrition.
Families are receiving "grab 'n go" meals that include a breakfast and a lunch for their children. Burkhardt says meals will feature variety.
"We have fresh apples, fresh pears, fresh bananas, as well as a seasonal vegetable that is available every single day," said Burkhardt.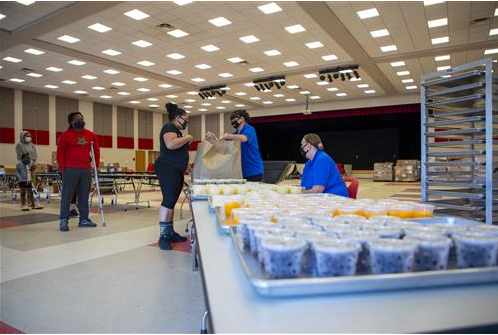 The District listened to families as it expanded distribution from 22 schools to sites across the city and offered two meal options:
Pick up a lunch and breakfast from 10:30 a.m. to 2 p.m. Monday, Tuesday, Thursday and Friday at any K-8 school. A double supply will be available on Tuesday. Sites will be closed Wednesday for cleaning and sanitizing.
Stock up for the week from 10:30 a.m. to 2 p.m. on Tuesday at most high schools. Service is not available at the Lakeside Building (Cleveland High School for Digital Arts, Davis Aerospace & Maritime High School), John Hay Campus or MC²STEM locations.
"That's because we know that some parents work during the course of the day, and they don't have a chance to get to the school, to pick up meals on those scholars' behalf," said Burkhardt.
Burkardt says the United States Department of Agriculture extended free meals to the end of year, allowing the District to offer meals to all children under the age of 18, even if don't they attend a CMSD school.
Since the pandemic started, Burkhardt says the District has served close to 750,000 meals.
"Our school nutrition staff is the best in the country," said Burkhardt. "They have been on the front lines every single day, since March 16, feeding the Cleveland community. This can't be done without them. "
Many families are grateful to be able to feed their children during this time.
"I don't really have the time to go every day," said a mother of two students. "I can just stock up on the refrigerator, and then I can focus more on the children and what they need help with."
Burkhardt says the District is committed helping eradicate food insecurity in Cleveland.
Watch the video here.